Building Now Available. Contact us today for information!
Storage Facility in Forest Lake, MN
Forest Lake Mini Storage proudly provides more than 500 units to customers throughout the Forest Lake, MN community (and still growing!). Adding 2 new buildings with many 10×20, 10×30, and 10×40 units (projected to be ready in February)! We also offer U-Haul rentals for customers who want to increase efficiency and minimize effort while transferring their belongings into storage. Contact us today to discuss rates and rental terms.
Our secure yet convenient storage facility gives you access stored items 24 hours a day.
The Only 24-Hour Mini-Storage Solution in Town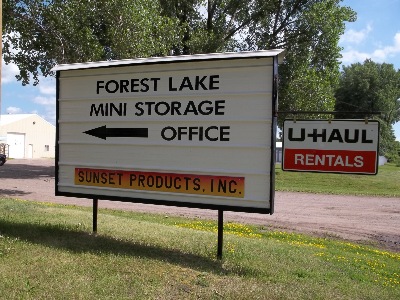 A self-storage facility is a great way to gain extra space for all those items taking up space in your basement, attic or garage. It's also an affordable solution for long-term storage, so you can safely and securely keep your items under lock and key.
At Forest Lake Mini Storage, we make it as easy as possible to get the benefits of a storage unit, no matter what you're storing or for how long. Our storage facility has hundreds of units on-site, starting at our affordably-priced 5×10 ft. options, all the way up to 10×40, 12×40 and 20×40 ft. units. We also have a convenient U-Haul rental location on-site and all the packing and moving supplies you could need.
Have complete peace of mind in trusting us with your belongings—everything from holiday decorations to classic cars! Our mini-storage is accessible 24 hours a day, 365 days a year, so you can swing by at your leisure, any time, day or night. Finding your unit is a breeze, thanks to our intuitive organizational structure. And, if you stop by our storage places after hours, you won't need to stumble around in the dark. Security lights keep your unit brightly lit all night, so you feel safe whenever you enter the premises.
If you need additional storage items, we'll gladly provide them at affordable prices. We offer an assortment of high-quality padlocks, cardboard boxes and other storage supplies. Let us worry about the details. All you have to provide is your stuff! With friendly rental rates and terms for both short-term and long-term renters, you won't find a more convenient option for a self-storage facility in Forest Lake, Scandia, Hugo, or Wyoming, MN.
We offer free use of our pallets, so you can keep your belongings off the floor.

Our fenced-in self-storage facility is equipped with round-the-clock surveillance and security lighting.

We're expanding! A new mini-storage building is becoming available soon!

We happily provide free monthly payment reminders and autopay options.
The Ideal Storage Solution
We're the only full-service storage facility in Forest Lake, MN, welcoming you and your belongings 24 hours a day. Contact us today to learn how we can help you organize your items!
Call Now!
Proudly offering mini-storage and U-Haul rentals to the Northeast Metro and the following:
Forest Lake
Hugo
Scandia
Wyoming
Center City
Lindstrom
North Branch
Stacy
White Bear Lake
Centerville
Blaine
Lino Lakes